What is a 1800 number?
A 1800 number is a 10 digit inbound Australian business phone number that is free for all callers from Australia to ring. Because they are free to call, 1800 numbers are usually used by charities, not-for-profits and information-providing businesses - but this is not a rule and any business can choose to buy a 1800 number. 1800 numbers can only receive calls, you can't use them to dial out.
How does a 1800 number work?
1800 numbers are sometimes referred to as 'virtual phone numbers' because they do not have any physical lines and must be answered by an existing phone service, such as a mobile, landline or VoIP. A 1800 number can be routed and configured in complex ways that a local area number can't be, like ringing multiple phones, setting time of day rules, geographic routing options, and 1800 IVR functions.
When you buy a 1800 number, you nominate a destination phone number or set of phone numbers where calls will be sent and answered. Then, when someone calls your 1800 number those nominated phones will ring. You can divert 1800 calls to multiple destination phone numbers, and choose between a number of different call forwarding or routing options that best suit your business needs.
Read about all the features and routing functions of a 1800 number here.
Rather than diverting 1800 calls to a phone number, you can also choose to send calls directly to a voicemail or to an IP address (such as a PBX phone system).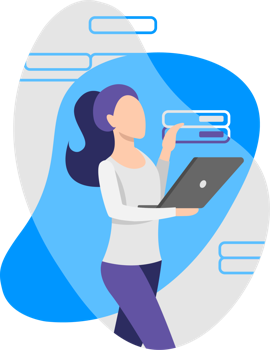 Benefits of an Australian business 1800 number
Here's the three top reasons that businesses use 1800 numbers:
A small business will use a 1800 number to appear more professional and larger than their competitors
To offer a single, freephone point of contact to callers and sell services Australia-wide
To manage their call flows more efficiently or to replace an expensive PBX phone system
The following are typical uses of a 1800 number with beneficial call forward or routing options explained.
Solopreneur or micro businesses
Most businesses in Australia are small businesses and some choose to use a 1800 phone number to appear larger or more professional than their competitors. Most of these small businesses answer their calls on a mobile and use the Call Whisper function to tell them when a phone call is a business call (rather than a personal call).
1800 number with IVR
A 1800 with IVR is both a way for a smaller business to appear larger than their competitors (since all dialled options can be diverted to the same phone number) or for larger businesses to better manage their call flow and provide better customer service.
Interactive Voice Response ("IVR") is sometimes called a Voice Prompt Menu because when someone calls your 1800 number they hear a pre-recorded message prompting them to press a number on their phone's dialpad to self-direct to the best department for their enquiry. A typical small business will play a recording like, "Thanks for calling [my business], please press 1 to speak to Sales, press 2 for Accounts." Or a restaurant might use a 1800 number with IVR to prompt callers to press 1 for reservations, press 2 for take-aways, or press 3 for catering.
Budget insights
1800 number call records can be particularly helpful for marketing teams. You can advertise a different 1800 number on different marketing campaigns (for example, digital vs print media) and analyse your call records to identify the ROI of a particular budget and maximise your marketing spend.
Reviewing the call reports of a 1800 number with an IVR also help to understand caller behaviour which can inform operational or executive teams on the best phone answering structure and business needs.
Time of day routing (business hours vs after-hours)
A 1800 number can be diverted to different answerpoints based on the time of day. Typical businesses use this 1800 feature to divert calls directly to a voicemail service during after-hours.
Businesses with different staffing rosters use time of day routing to divert to Team A during their shift, then automatically divert to Teams B or C (and more) for different roster schedules.
Sales team equity
If you have a multi-person sales team, you can route 1800 calls in a 'Round Robin' format to ensure an even distribution of calls between salespeople. So, caller 1 is diverted to salesperson 1, caller 2 to salesperson 2, and so on.
Franchises
1800 numbers can be configured to identify a caller's location and route specific geographic areas to a local business. This is especially helpful for businesses that serve multiple locations and for franchises.
Our comprehensive article explains all the 1800 number features in detail - read it here.
Buying a 1800 number
There's four simple steps you need to take to buy a 1800 number for your business.
Decide whether you want to pay a purchase price for a 1800 Smartnumber or choose from a provider's list of free available 1800 numbers.
Source a reputable 1800 number provider from all the available sellers.
Calculate the total monthly cost to use the inbound phone number with your seller of choice and buy the most appropriate 1800 plan for your needs.
Choose the features you want to activate, and configure your 1800 number to forward calls to your existing landline, VoIP or mobile phones.
Once you've chosen your preferred supplier, it should only take a matter of a few minutes to buy the 1800 number and get it set up to suit your business needs. It's not a long, complicated process so make sure you ask how long it will take when you're sourcing your 1800 number service provider.
1800 number costs
Depending on the service provider, costs for a 1800 number vary quite a lot. A typical 1800 number plan has four elements.
Monthly plan fee (also called a hosting fee)
Call rates (what you pay to receive a 1800 call, or $0 for an unlimited 1800 number plan)
Optional features and functionality access fee (pay per feature, per feature set, or have it included in the cost of your monthly 1800 number hosting fee)
Set up fee (for new numbers or when porting a number to a new provider), typically no more than $20
Some 1800 number providers charge minimum monthly fees, and support fees if you need to change your routing or cancel your number. The Critical Information Summary will outline all the 1800 number costs.
Keep reading here to learn how 1800 call costs are calculated.
Different types of 1800 number
All 1800 numbers function exactly the same way, but you will sometimes see them advertised with different marketing names. Don't focus on what branding term a company chooses to use to sell you a 1800 number, it's just a word. From a technological point of view, all 1800 numbers are the same.
We've broken down the things you need to consider before choosing a 1800 business phone number provider here.
ACMA 1800 Smartnumbers
Every single 1800 number is regulated by the ACMA and they are either released in batches to 1800 number providers or are sold directly to the public via The Numbering System. ACMA 1800 numbers are marketed as Smart numbers that can spell a word or have a memorable sequence of numbers (like 1800 NUMBER or 1800 987 654).
1800 Smartnumbers have an assigned once-off purchase price that is set by the ACMA and is non-negotiable. Purchase prices start at $250 and go all the way up to $20,000 depending on the desirability of the 1800 number. For example, 1800 123 456 had a $20,000 purchase price. After you have bought your Smartnumber, you will need to contact a 1800 number host (or service provider) like Communiqa to activate the number on a network and start receiving calls - activation usually takes 1 business day.
Telstra 1800 numbers
Some people refer to Telstra 1800 numbers simply because Telstra ran a large marketing campaign when they acquired a 1800 number service provider. You can buy a 1800 number from any provider that offers the service, you don't have to buy direct from Telstra (who often charge very high rates anyway).
Free 1800 numbers
1800 number providers usually have a handful of 1800 numbers ready to sell to a business with no additional purchase price. Frequently, these stock 1800 numbers are 'good' numbers with memorable, repeating digits (and, in fact, are usually numbers that ACMA would have sold as a Smartnumber anyway) so if you don't want to buy a 1800 number you can always find a good free one from a service provider.
Click here to see our currently available free 1800 phone numbers.
Gold or Platinum 1800 numbers
Some 1800 number providers offer what are called Gold and Platinum 1800 numbers for an additional purchase price that they determine based on the memorability of the number. Try to avoid paying extra for numbers that are just sitting on the telco's books anyway, because you can definitely find memorable free 1800 numbers that don't have an additional purchase price.
1800 Flashwords and 1800 Phonewords
1800 Flash numbers and 1800 Phone words are just another marketing term for 1800 Smartnumbers, but usually the service provider has already paid to buy the phone number from the ACMA and may in fact have bought the number many years ago.
1800 number providers like these might charge a high price and long contract terms for their service, and may only offer to lease the 1800 number to you (instead of you owning the number). This means you won't be able to port your 1800 number away to another provider if you don't like the service you're receiving or the price you're paying. Make sure to read the Critical Information Summary to see exactly what you're getting.
1800 fax numbers
1800 numbers can also be used as fax numbers. Since 1800 numbers are an inbound-only service, you can receive faxes but not send them. When a fax is sent to your 1800 number, it's received in the cloud and the incoming fax stream is automatically converted to an email attachment which is sent to you.
If you choose a 1800 fax number provider which charges call rates (i.e. not an unlimited 1800 fax number plan) then you will pay to receive faxes. 1 page takes 1 minute to transfer, so if you receive a 10 page fax you will be charged as if you had received a 10 minute phone call - it can get quite expensive!
Click here for more information on how to choose the right service provider.
Choosing between a 1800 and 1300 number for your business
Traditionally, for-profit businesses use a 1800 number and not-for-profits or information-providing businesses use a 1300 number. That's mainly because a 1800 number is a freecall phone number, which means callers will never pay to ring a 1800 number from any phone in Australia.
So, if you want peace of mind that customers calling your business will never pay, choose a 1800 number.
Calling a 1800 number vs calling a 1300 number
1800 numbers are 100% free to call from a phone within Australia.
1300 numbers can cost some callers a small fee to call, but most phone traffic comes from a mobile phone these days and almost all mobile plans include unlimited calls even to a 1800 number (note that is not true of every single mobile plan, so you should check directly with your mobile provider if you can call a 1300 number for free).
Different plan fees
The other difference is that 1800 phone number plans typically cost a little more than 1300 number plans.
Keep reading here where we have explained all the differences between a 1800 and a 1300 business phone number.
How to sell a 1800 number
If you own your 1800 number and no longer need it, you can sell the Enhanced Rights of Use (EROU) of it to another business at any time. Or, you can trade (lease) your 1800 number to another business but retain ownership.
There are strict rules around the trading of 1800 numbers which are regulated by the ACMA but you must agree the terms with the other party.
Here's what you need to know as both a seller and a buyer of a 1800 number.
100% of the rights must be traded - partial trading is not permitted.
Activation time limits - if you buy a Smartnumber, you should know how much of the three-year activation period remains by checking the original purchase date. The 1800 number activation period does not re-set when the ownership is transferred.
The 1800 number must be traded on ACMA's The Numbering System platform where both the seller and the buyer must register an account (an ACMA account registration fee may apply). The seller must login to submit the offer and the buyer must login to accept the offer.
The ACMA may charge a facilitation fee for the transfer of the 1800 number.
1800 number auction
When 1800 Smartnumbers were first introduced into Australia, you could only buy them by participating in a competition-heavy auction system. Numbers sold for up to $1,000,000! Fortunately, the 1800 number auction system no longer exists, so now you can buy a business 1800 number direct from ACMA (purchase prices range from $250 to $20,000) or from a service provider (usually with a $0 purchase price when you buy a 1800 number plan).
Click here to see our currently available free 1800 phone numbers.